Goodcover's Guide to the New Biden Tenant Protection Bill of Rights: What Does It Mean for Renters?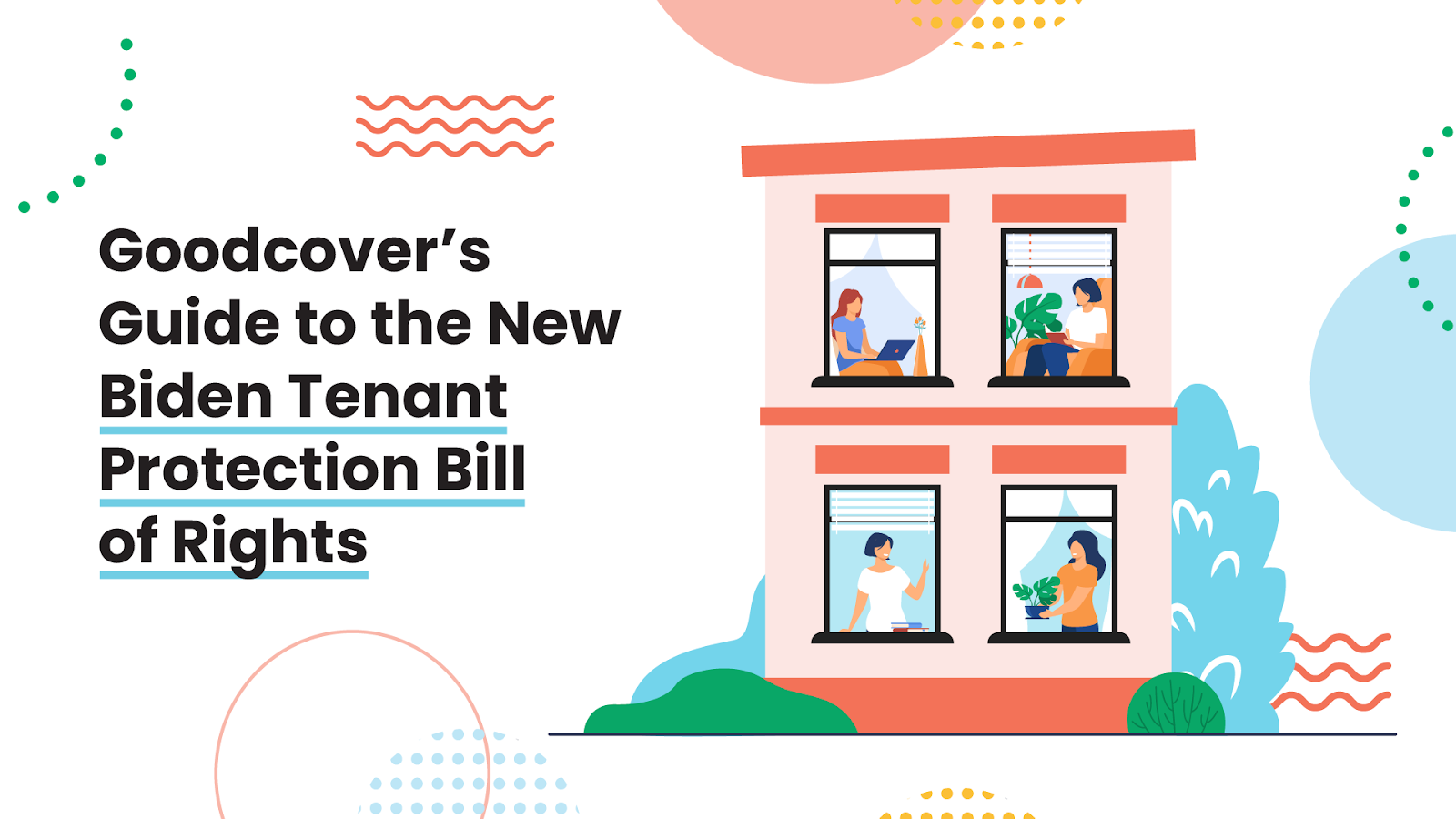 Currently, 44 million people in the U.S. (35% of the population) rent their homes. And soaring rental prices, up 23.5% from October 2019 to October 2022, have experts fearing a resurgence of evictions and homelessness.
In response, The Biden Administration has released the Blueprint for a Renters Bill of Rights. By understanding the guidelines, you can better budget for your housing expenses and build financial stability.
Let's see what the Blueprint for a Renters Bill of Rights could do for renter protection and how it could affect the rental housing market. We'll also talk about some steps you can take right now to protect yourself as a renter.
Renters Bill of Rights
The 5 Goals of the Blueprint for a Renters Bill of Rights
What Does the Blueprint for a Renters Bill of Rights Mean for You Now?
What Can You Do To Secure Your Future as a Renter?
Why Do You Need Renters Insurance at All Times?
How To Choose the Best Renters Insurance Provider
Final Thoughts: Biden Tenant Protection Bill: Know Your Rights as a Renter
Renters Bill of Rights
The Biden Administration's Blueprint for a Renters Bill of Rights lays out guidelines for a fairer, more transparent, and affordable rental market.
These guidelines aim to protect tenant rights, bring about rent stabilization, give renters access to fair housing, and provide rent relief and eviction protection to vulnerable renters.
They spell out initiatives for federal, state, and local governments; city councils; private property managers; homeowners; and housing companies to pursue.
However, these are guidelines and not legally binding. The effectiveness of these renter protection proposals will depend on how affected government agencies and property owners address the initiatives.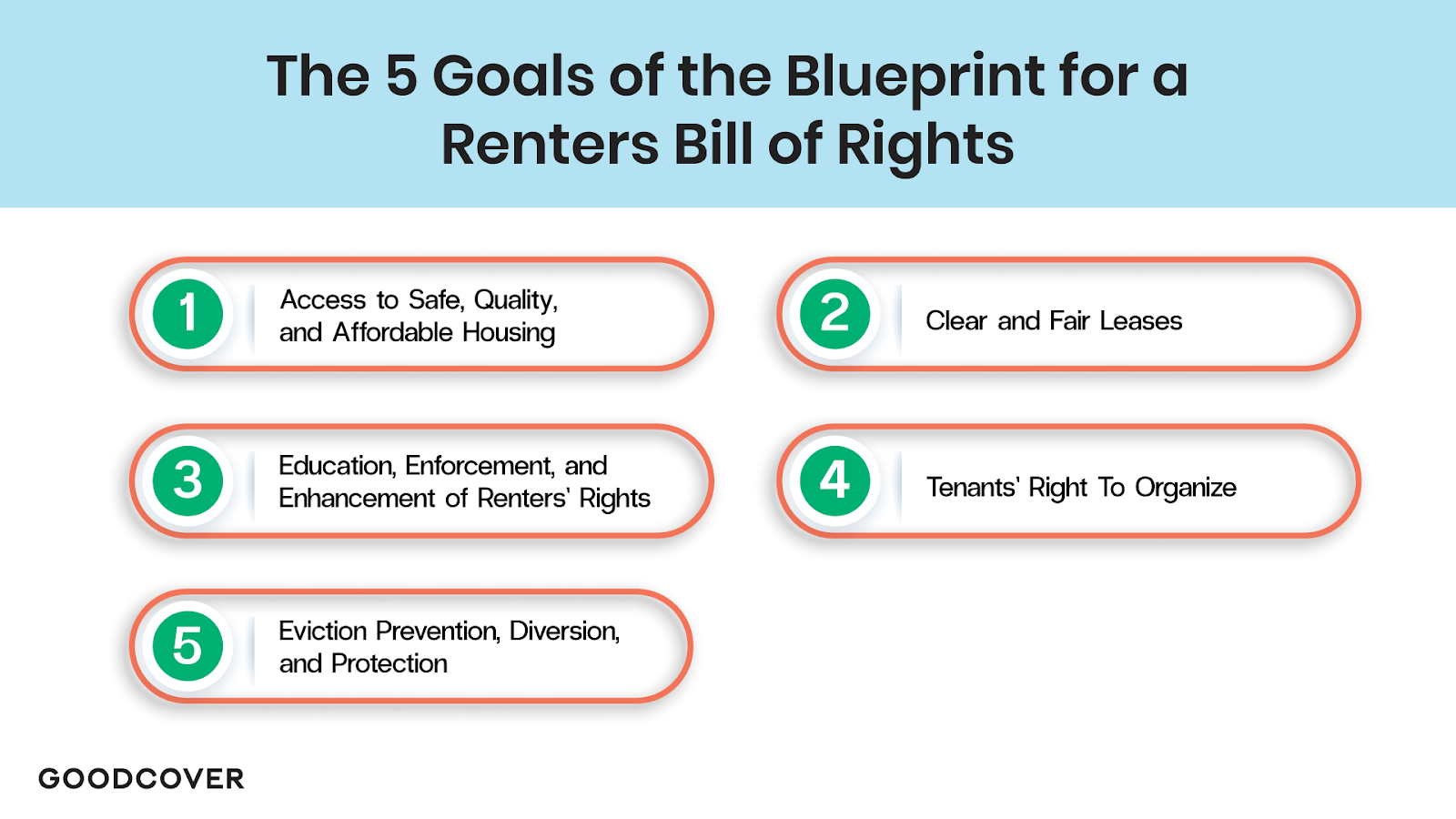 The 5 Goals of the Blueprint for a Renters Bill of Rights
The Blueprint for a Renters Bill of Rights lays out five categories of tenant rights:
Access to Safe, Quality, and Affordable Housing
Rent shouldn't exceed 30% of income.
Rental housing must be clear of health and safety hazards, like mold and lead.
Rental properties and common areas must be well maintained.
Unfair screening and paperwork requirements must be minimized.
Clear and Fair Leases
Leases and rental agreements shouldn't include arbitration clauses, hidden fees, or deceptive practices.
Rental agreements must include defined rights, responsibilities, and terms.
Security deposit terms must be clear and deposits placed in an interest-bearing account.
Inspections and other items related to the rental agreement must have advance notice.
Education, Enforcement, and Enhancement of Renters' Rights
Federal, state, and local governments must enforce existing tenant rights and educate renters on their rights.
Governments must protect renters from unlawful discrimination or exclusion from fair housing.
Tenants' Right To Organize
The tenants' right to form a tenant association must be respected.
Property managers and owners must recognize tenant associations..
Eviction Prevention, Diversion, and Protection
Eviction proceedings for renters must be justified.
Eviction prevention initiatives, such as mediation, must occur before an eviction.
Diane Yentel, president of the National Low Income Housing Coalition (NLIHC), says the tenant protection bill of rights is significant in that the Federal Housing Finance Agency (FHFA) will examine ways to prevent extreme rent increases.
"... this is really the first time in decades, I think probably the first time since the Great Depression, that the federal government is acknowledging that there could be an important federal role in preventing rent gouging," she said.
What Does the Blueprint for a Renters Bill of Rights Mean for You Now?
Although these initiatives could lead to stronger renter protection in the future, they aren't laws yet.
Federal, state, and local governments and private property managers with the right intentions must unite and make these tenant protection guidelines a reality.
Also, the renter protection bill of rights does little to address the concerns of 50 lawmakers who wrote to the president in January. They asked for action against steep rent increases and rent-gouging by corporate landlords and private property managers.
However, there could still be some positive effects.
While there could be rent increases in some areas, overall rental housing prices might stabilize even if they don't decline significantly. This is because many property managers and owners want to take attention off the issue.
What Can You Do To Secure Your Future as a Renter?
If you secured a rental agreement during the Covid-19 pandemic, you could be paying less than what you can find elsewhere. So, it might be more economical to continue living in your current rental property.
However, suppose you've secured a new rental agreement over the last year, and the rental housing prices later fell in your area. In that case, you could try finding a new rental property.
If you're a renter looking for legal assistance or help with eviction prevention, here are some rental assistance resources:
If you need to vacate your current rental property, a good credit history and rental score might help you find new rental housing more quickly.
Your credit score could be hurt by delayed rent payments, unpaid rent, any rental agreement violation, or eviction if your landlord reports it.
Renters insurance helps ensure you don't incur large debts that can damage your credit rating should something happen to your rental property.
If you're a renter, then buying a renters insurance policy is always a wise decision. The rental property owner's insurance only covers the rental property and the grounds, not your personal property.
Plus, the premium you pay for renters insurance is significantly less than the amount you'd spend in case of loss or damage to your personal property.
Many landlords and property managers require that you carry renters insurance as part of the rental agreement terms.
A reliable and affordable renters insurance provider, like Goodcover, can protect renters and their personal property under several difficult circumstances.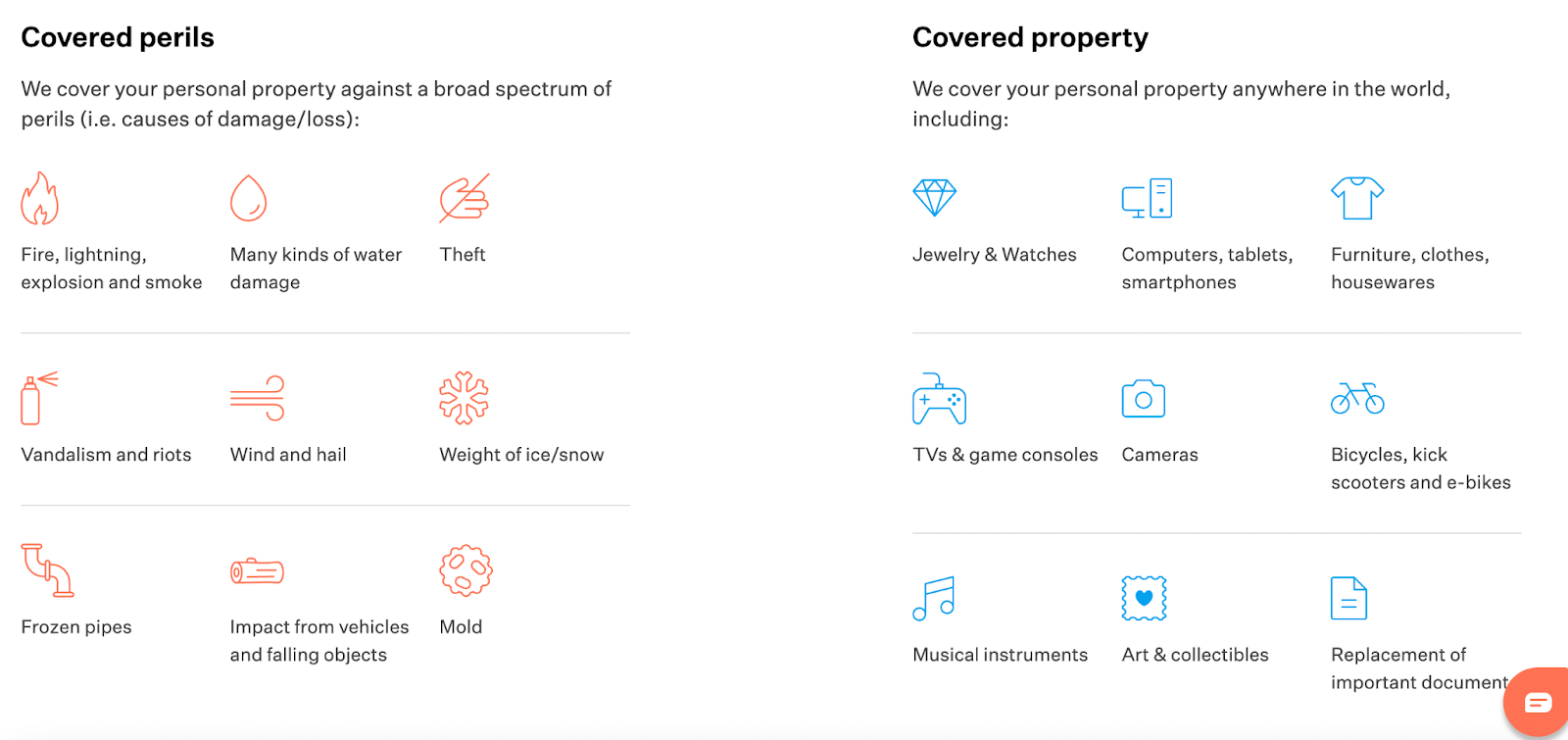 Let's say there's a rent increase in your current apartment and you decide to move to a new place. But the new rental property needs a few weeks of repair work before you can move in. Your renters insurance policy from Goodcover might pay for your motel stay during the interim period.
Or you move in with your parents for a while due to rent increases. Your renters policy might cover your property in storage.
Perhaps your apartment is vandalized or you cause accidental damage. Your Goodcover policy might cover your repair costs or legal assistance fees.
Paying your renters insurance premiums on time also helps you maintain a good credit score.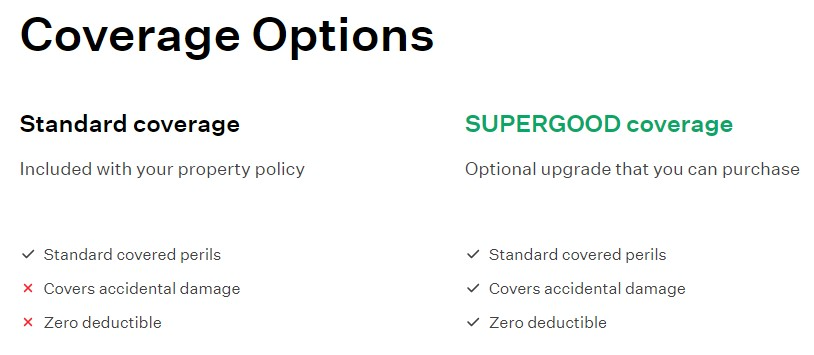 Do your research on insurance providers before purchasing a renters policy to get the best value for your money through sturdy renter protections.
When researching providers, check if they pay actual cash value or replacement cash value.
A provider who pays the replacement value will give you the costs of your lost or damaged insured items at their market value without accounting for depreciation. This can make it much easier to replace your personal property.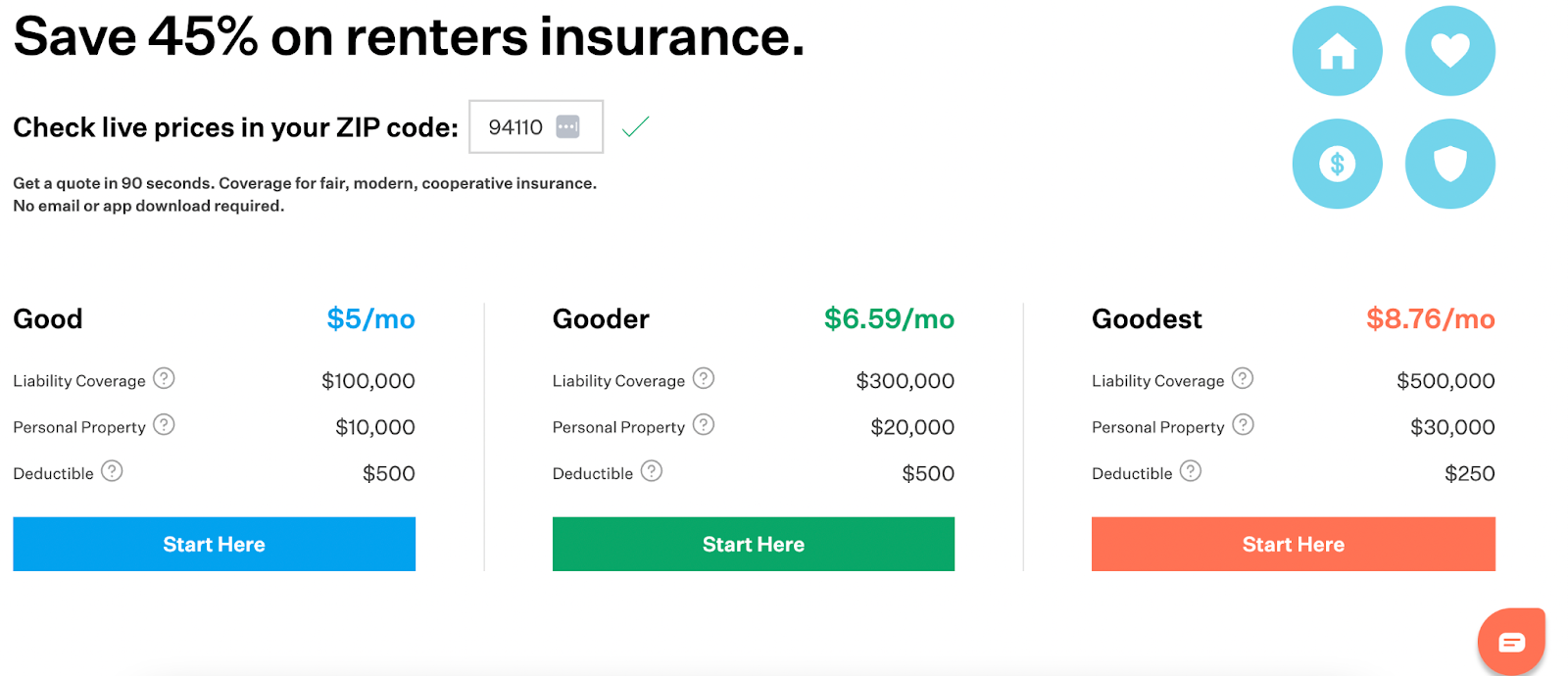 Final Thoughts: Biden Tenant Protection Bill: Know Your Rights as a Renter
The proposed Blueprint for a Renters Bill of Rights signals an attitude shift in the right direction.
With help from government officials and private organizations, the renter protection proposal could lead the way to stronger tenant rights that the rental property market sorely needs right now.
The proposed renter protections might also lead to rent stabilization in many parts of the country in the near future.
As an individual renter, you can take steps today to protect yourself against market uncertainties.
Having a good and affordable renters insurance provider like Goodcover by your side could go a long way toward keeping you safe and secure in your rental property.
So, what do you think about the protections? Do you think this will bring some much-needed changes to the rental market?
Share this article with your friends and family, and let's keep the conversation going on Twitter.
---