Goodcover Monthly Roundup | October 2022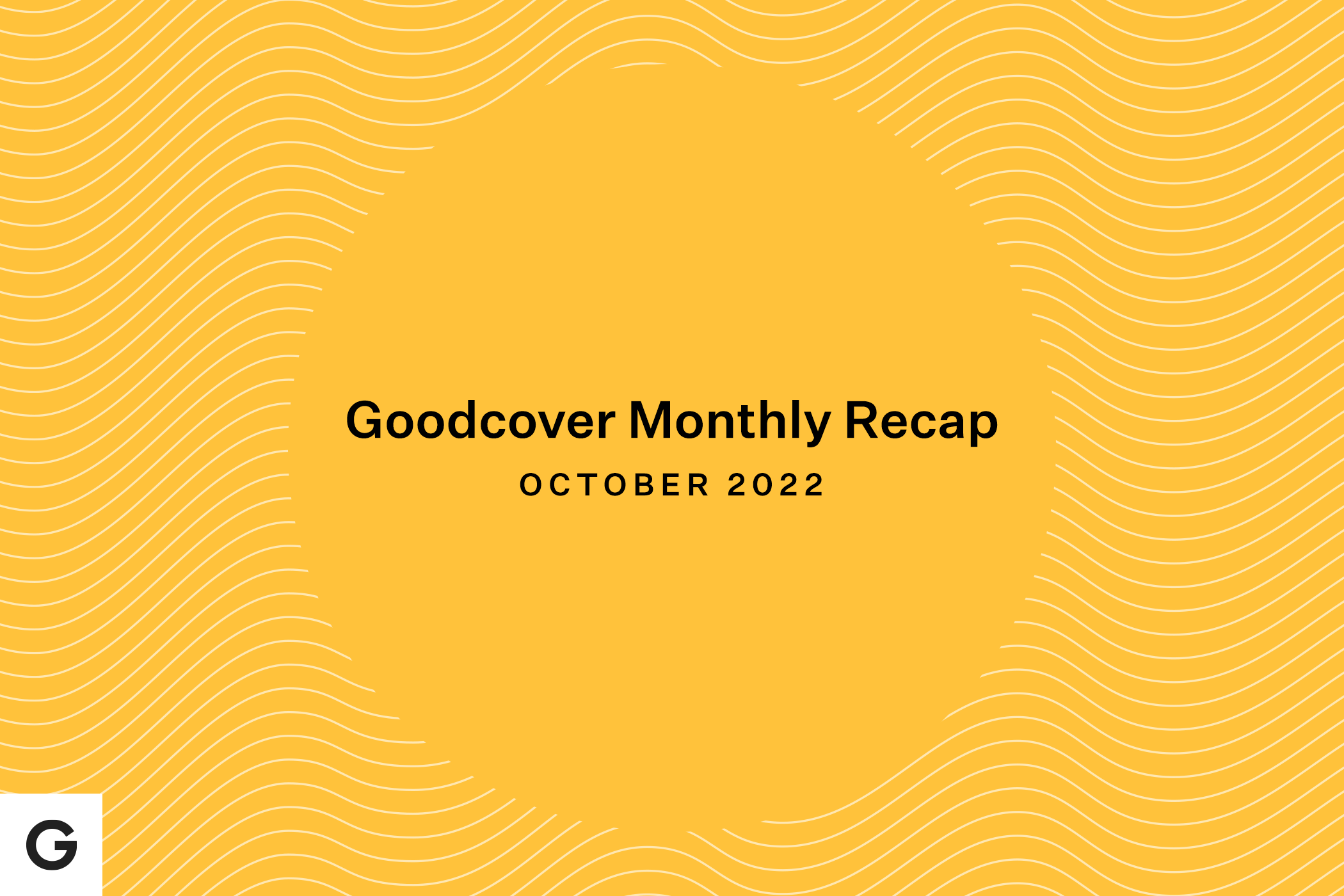 Welcome to the Goodcover Monthly Roundup for October 2022.

Every month we publish this series which features news stories from the worlds of housing and finances. It's our way of keeping our Members informed about news that may affect their lives and help them prepare for life's surprises. Check out our previous recaps here.

Here's what caught our attention in October:

Insurance and the Aftermath of Hurricane Ian
Wall St. Journal reporters Leslie Scism and Cameron McWhirter found that only 15.4% of Floridians had flood insurance protection before Hurricane Ian ravaged areas of the state. While coastal residents tended to be more insured due to lender requirements in high-risk zones, inland county residents typically declined voluntary coverage, citing cost as the main reason. These uninsured residents need to rely on federal aid to rebuild, which may stall restoration efforts. With climate change continuing to affect the entire world, we may see more disasters in previously "low-risk" areas – so it's in your best interest to stay prepared and protected.

Insurance Breaks for Wildfire Protection
In California, Haley Smith reports for the LA Times that new home insurance regulations will require insurance providers to include discounts for homeowners who have taken appropriate precautions to mitigate wildfires, such as installing fire-resistant roofs. Smith also reported that in 2020, wildfires were second only to transportation as California's primary source of planet-warming gasses. That single wildfire season eliminated two decades of the state's climate efforts. California is the first state to require discounts for preventative fire measures, but with wildfires increasing across the west coast perhaps Oregon and Washington could follow suit in the coming years. Just as in Florida with Hurricane Ian, it's best to take the necessary precautions to protect your home from wildfires before it's too late. We're happy to see California incentivize homeowners who take action. Renters, to do your part, we'd advise taking time to understand what renters insurance covers when it comes to wildfires.

The Renters' Revolution:
A New York Times article by Conor Dougherty highlighted the rise of tenant unions and rent activism around the country by focusing on the Kansas City-based group KC Tenants. Formed in 2019, KC Tenants has organized effectively and contributed to the Tenants Bill of Rights passage and additional legislative protections for renters. As mid-sized cities in the United States begin to feel the effects of the national housing crisis, organizations like KC Tenants are responding with a focus on redefining the future of renting. Tenant unions around the country can help renters begin to see themselves as a cohesive group whose members share common goals. Together, change is possible.


Representation Matters:
Lastly, we love this new development  from California Assemblyman Isaac Bryan (D- Los Angeles):

California has a higher percentage of renters than anywhere in the U.S. other than New York and DC, but Bryan, along with Assemblymembers Matt Haney (D- San Francisco) and Alex Lee (D- San Jose), are the only three members of the legislature out of 80 who are renters themselves. These three individuals are forming California's Renter's Caucus to represent renters, prioritize their needs, and help amplify their voices when policymaking in the future.

That's it for the Goodcover's Monthly Recap. Thanks for reading. Please check out more posts on the Goodcover blog if you enjoyed this post.
We'd love to know what you want to see in the next monthly recap. Follow us on Twitter and share what you're interested in learning about. We love hearing from you.

See you next month!

-The Goodcover Team
---
Note: This post is for informational purposes; insurance regulation and coverage specifics vary by location and person. Check your policy for exact coverage information.

For additional questions, reach out to us – we're happy to help.