A Goodcover Overview of Moving from Renting to Homeownership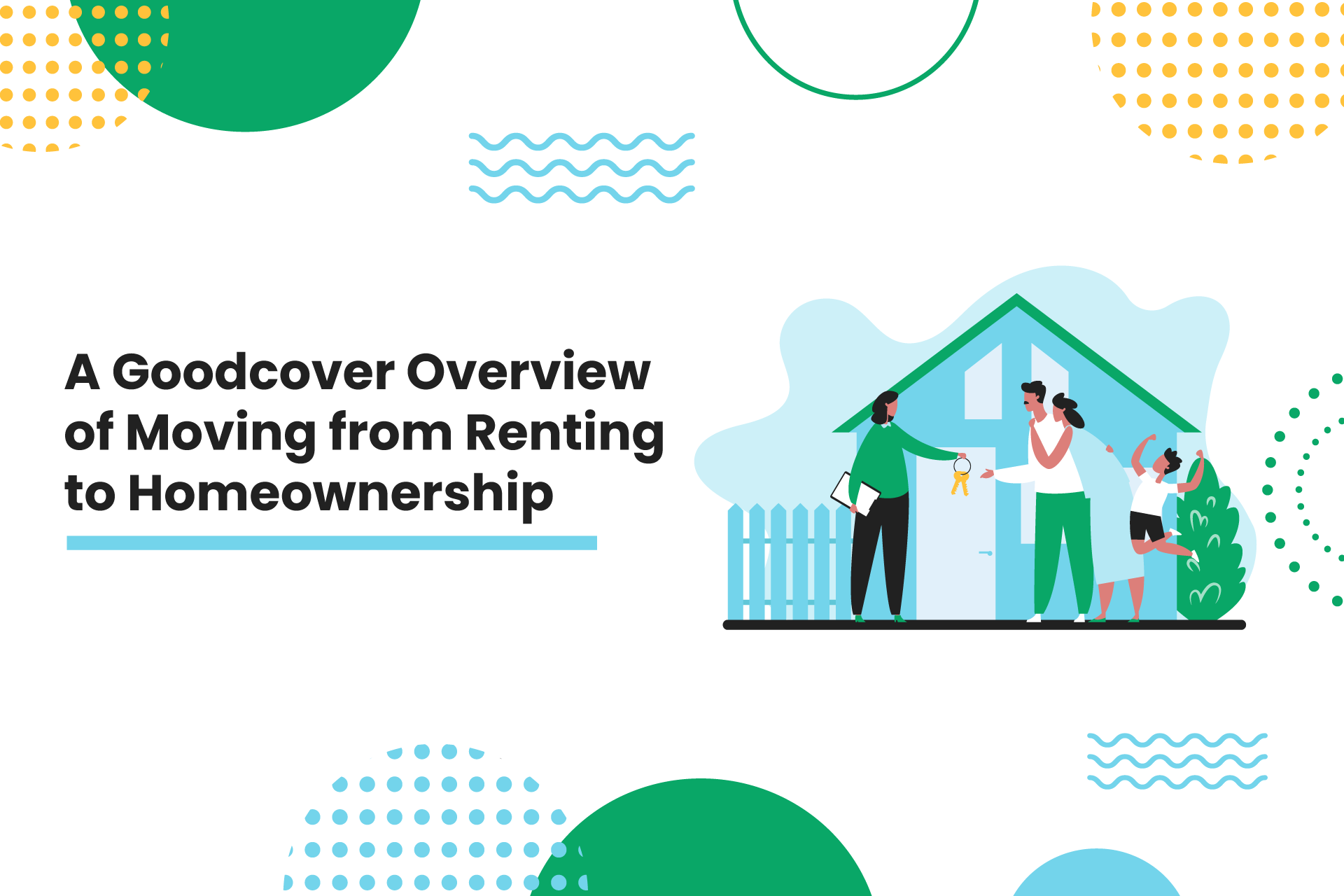 Despite the pandemic, homeownership rates are on the rise, what the Census Bureau reporting a 1.7% increase from 2018 to 2022.

With more people taking the homeownership leap, it's important to understand the nuances of going from renting to purchasing a home. There's a lot to consider, and it can be an overwhelming task if you're a first-time homebuyer without someone in the position to guide them. To make things less confusing, we'll give you an overview of what homeownership entails, how it compares to renting, and how you can prepare for future home purchases.

Renting vs. Homeownership
Ways To Get Ready for Homeownership While Renting
Final Thoughts — Renting vs. Homeownership: What You Should Consider
Renting vs. Homeownership
While homeownership has long been a fundamental part of the American Dream, the implications of homeownership is a bit more complex. Housing policy in the United States often favors homeownership, making it easier to build a single-family home in the U.S., and offering good tax breaks for doing so. But is homeownership the right choice for you and your family?

To help you decide, let's explore the advantages and disadvantages of homeownership and renting so you can determine which is best for you.
Advantages of Homeownership
Owning a home has plenty of upsides when it comes to:
Family: Purchasing a home is a great choice for families. You'll have plenty of space for your children to play and make new friends. Plus, you'll have the opportunity to create lasting relationships with new neighbors.
Stability: No more worrying about expiring leases or suddenly moving homes. Owning a home gives you stability and allows you to put down roots without disrupting your children's lives or changing school districts.
Pets: Love your furry friends? You can keep as many as you'd like. No more extra rules, deposits, or pet rent from your landlord for keeping your favorite pets.
Customization: Want to paint the walls a funky color or remodel the whole place? Go ahead! When you're a homeowner, you can customize your home to your heart's content, including the landscaping. Bonus: your social circle will begin to include the employees at your local hardware store.
Community activities: When you commit to a single home, you can participate in community activities and build a community with your neighbors.
Home equity: Every mortgage payment you make helps build home equity. As you pay off your mortgage, your home value increases. Building equity is a great way to improve your credit score and ability to access debt from your property value.
Disadvantages of Homeownership
Committing to homeownership comes at a cost, stressing not only your wallet but you, too. Some of the disadvantages include the following:
Home repairs and servicing: Once you own a house, you're responsible for maintaining everything from changing the water pipes to repairing broken windows. And as your home ages you may have to replace entire aspects of your home, such as the roof, ceiling, or HVAC systems. On average, homeownership costs may be between 1–4% of the home price yearly on maintenance.
Fees and taxes: As a homeowner, you incur other expenses like homeowners insurance, Private Mortgage Insurance (PMI), and HOA fees. These costs can pile up and make homeownership more expensive than renting.
Inflexibility: Homeownership ties you down to one property. If you want to move, you may have to put the house up for rent or sell it first, which also costs something.
Plus, your money is tied to the property, which is harder to liquidate quickly.
Inflation: Inflation can cause the prices of housing and mortgages to increase. That can make purchasing a home more costly and lead to an increase in your monthly mortgage payments.
Benefits of Renting an Apartment
Renting makes up for the disadvantages listed above. Here's how:

Flexibility: Renting is great if you're not sure where work will take you next. You can opt for a month-to-month agreement or sign a 12-month lease, and you can leave at your convenience without much fuss.
Affordability: Rent payments are often smaller than mortgage payments, and you only pay for the cost of rent, utilities, and renters insurance coverage.
Amenities: Many apartment complexes have access to amenities such as a gym or pool, which would be expensive to build or maintain in a home you personally own. By renting, you'll enjoy those amenities for a much lower fee.
No repair and maintenance burdens: Under normal circumstances, your landlord is responsible for repairs and servicing done to your apartment. You only have to make a maintenance request with your landlord for repairs.
No property taxes or HOA fees: Homeowners face recurring expenses like monthly HOA fees or annual property taxes, but renters don't have to worry about this.
You can invest your extra cash: Renting doesn't tie you down financially, and you'll save money without the additional recurring fees homeowners face. You can invest your money in a business, play the stock market, or keep saving up – anything goes.
How To Prepare for Homeownership While Renting


If you're ready to move towards owning a house, you shouldn't go unprepared.

Here are some steps you can take to ensure you have a smooth transition:
1. Choose Your Ideal Location
Before you start scrolling Zillow or getting a real estate agent to find you housing options, set your priorities straight. Are you looking for a forever home or a starter pad? Do you want a backyard, a swimming pool, both… or is a condo without either okay? What is the school district? And, most importantly, can you afford the property taxes?
Answering these questions will help you with your search and guide you toward your ideal home. Explore all available options until you find the right fit for your needs.
2. Build Your Credit Score
Credit scores are an essential factor when planning to buy a house. An excellent credit score can do wonders for your finances, such as granting you access to fixed-rate mortgage options and lower mortgage interest rates.

But building your credit score isn't a super easy, quick fix. In fact, it can often feel like an uphill battle. While rent is arguably the most significant monthly bill you have, paying it on time doesn't mean anything to most credit agencies.
So, how can responsible renters bolster their credit scores when money is tight?
The answer is pretty simple. Pay off any outstanding debts, avoid additional credit applications, and pay all your bills on time. That's it – no quick fix here (sorry!).
You can also explore what the federal government has to offer. For instance, with a credit score of at least 580, you can qualify for a Federal Housing Administration (FHA) loan. And with a credit score of 620 or above, you can access a conventional mortgage loan. So, depending on your credit, you may already qualify.
Lastly, you can explore new options for getting your rent counted toward your credit score. Fannie Mae is piloting a program that helps renters build their credit through renting. There are also many reporting agencies for rent payments that the major credit bureaus accept as "alternative credit data." So, you might finally be able to get credit for your great rental history after all!
3. Save Towards Your Down Payment
Although you can buy a home with no money down, you shouldn't. There are plenty of benefits to making a down payment. For example, you may avoid paying for private mortgage insurance by putting at least 20% down on a new home. You'll also have access to plenty of mortgage options to choose from.
That said, you can get a conventional loan for a minimum down payment of 3%. While renting, you can save some money toward making a down payment for your new home.
4. Take Advantage of Special Programs
If you're a first-time home buyer, a first responder, or a veteran, you can take advantage of special down payment assistance programs. For example, the Department of Veteran Affairs (VA) loans help qualified military veterans own homes with 0% down.
Here are other excellent examples of programs you can take advantage of:
Good Neighbor Next Door Program: The Department of Housing and Urban Development (HUD) has generous offers for pre-K-12 teachers, firefighters, law enforcement officers, and other first responders. You can get up to 50% off select HUD properties.
First-time homebuyer loans and grants for students: If you're a student, you can also get in on the action. Some states have programs that support student loan borrowers. Besides that, FHA and VA loans also help you balance your student loan repayments with your mortgage. You can also claim tax benefits for these mortgages.
Closing assistance: Some government-sponsored programs will help you pay closing costs using grants or loans. You can also use seller concessions to pay closing costs, attorney fees, and title insurance.
When you're ready, make sure to involve a realtor. Having someone who understands the market, can negotiate for you, and handle all the paperwork will save you major headaches. And for more information on special programs, check out the HUD resources page.
5. Stay Insured Until You're Fully Moved In
When you're ready to leap to homeownership, make sure you're not too hasty about cutting the protections you still have as a renter. Renters insurance covers personal property in your rented home or storage unit until you switch to a homeowners insurance plan. Keep your policy in place until you officially move.
A renters insurance policy also gives you liability protection, guest medical cover, and temporary housing benefits. Check out this page for a closer look at what renters insurance covers.
Final Thoughts — Renting vs. Homeownership: What You Should Consider
At Goodcover, we're invested in the long-term financial stability of our members, and we understand how challenging it is to move from renting to homeownership in 2023.

As we've seen above, homeownership and renting have benefits and drawbacks. We hope the resources we provided will help you make the right decision for your unique situation.

But if you're still renting — whether you plan to stay that way or purchase a new place — remember to stay protected. Discover how much insurance is right for you today.
---
Note: This post is for informational purposes; insurance regulation and coverage specifics vary by location and person. Check your policy for exact coverage information.

For additional questions, reach out to us – we're happy to help.